Recently I spent a few days up in the Observer Tree tree-sit in Southern Tasmania with my friend Miranda. She has been in the tree-sit for over a year non-stop, it's pretty damn impressive! This is a little journal I kept for a few of the days I was up there. You can visit Miranda's blog at www.observertree.org

6th January 2013 - When I arrived in Tassie I wasn't even sure if I could be able to get out to see Miranda, with the whole island on a huge wildfire alert, and a large fire not far from the main access route to get out to Miranda. It was kind of scary even flying into Hobart, having to descend through a thick layer of burning forest smoke.
While waiting to hear from my friend about whether she felt safe driving me out to Miranda, I went and visited some friends on the new Sea Shepherd ship, the Sam Simon, which is in port for a few more days before heading off to Antarctica. It was so lovely to see some good friends, but it also was a reminder of how much I don't miss the dramas that constantly surround that organisation.
In the end another friend felt quite confident about driving out to Miranda, so after the usual missions running around to pick up gear, we left Hobart mid-afternoon and drove up the Derwent Valley. We drove past the Lake Repulse fire, which was very smoky, but still seemed so far from Miranda that it eased our fears. Then we finally got to the beginning of the walk into the tree-sit and organised all the food and other gear for the tree-sit and base camp into our packs, and then the four of us headed off on the hot, steep walk. We had to walk through lots of cutting grass at the start, jungle thick, catching on our shoes, trying to trip us up. But the rest of the walk was on tracks and roads and just got steeper and steeper the closer we got to the Observer Tree. I nearly trod on a whip snake, and we saw lots of Tasmanian Devil and / or Quoll poos.
By the time we arrived at the tree I was pooped, and after having a little climbing lesson realised I was way too tired to climb 60 metres (it being my first time climbing to a tree-sit), so my friend that drove us out climbed up and we used a pulley (yo-yo) to pull me up while she climbed back down. It took me a while to gain a bit of trust in the ropes and enjoy the climb up, and even once I started enjoying it I was still gripping onto the rope pretty hard.
The moment of getting up onto the platform was awesome, being able to give Miranda a big hug and see her lovely smiling face in person. We spent the rest of the afternoon / evening catching up and yarning, and me slowly getting used to the fact that I was 60 metres up a tree and swaying in the breeze.
Sleeping with a harness on is a pretty weird experience, and with sore hips from the weight of my pack, I found it a bit hard to get to sleep. But the stars – the stars! - and the little bats flying around, was well worth a no-so-great first sleep.
This morning I was woken by the tapping sound of one of the local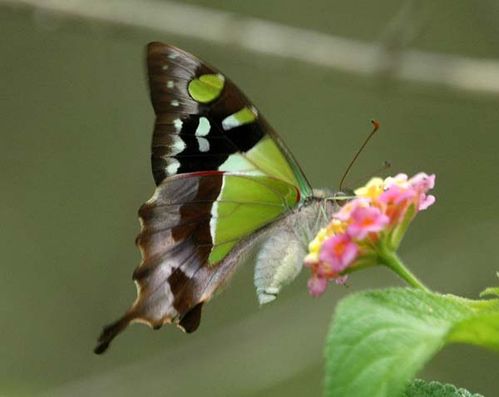 Currawongs coming to inspect the platform for scraps of food. They have no fear whatsoever. Same with the Skinks that come and sunbathe on the platform and are known to crawl over Miranda's hand with no fear. Today I've also seen a lot of Macleay's Swallowtail butterflies, luminous green butterflies that fill the air in old growth forests at this time of year. The wind has been a bit gusty occasionally, challenging my understanding of the firmness of trees. It sometimes feels like being on a ship – there is so much trust involved in feeling safe up here!!
We've had a few nervous moments, with some of the smoke from numerous wildfires drifting along our horizon. But after lots of phone calls and examining the fire department website we're feeling pretty safe about still being here. The local fire crew reckon we're totally safe too.
I just picked a tick off my wrist that was starting to dig in! The first tick that has been seen up here! Trust my luck.
7th January 2013 – Woke up to a beautiful sunrise this morning, with the
mountains in the east haloed by an orange glow. We got a couple of early morning Currawong visits before I fell back to sleep again. Upon waking I felt the grogginess of falling asleep in the sun. We ate muesli and strawberries for breakfast and then did some more bushfire assessing, before getting back to the nitty-gritty of talking about everything and anything for the most of the day (again).
There is a fire in the South West Wilderness that has got some people concerned, and Miranda has been getting a lot of phone calls from media and friends checking in to see if she's ok. The fire is currently no threat to us, but we're constantly making sure our emergency plans are still possible and adequate. We have one of Miranda's friends camped at the bottom of the tree tonight. She was able to drive her car in as the gate was open. It just means that if we have to evacuate there is someone that can drive us out as soon as descend from the tree. Otherwise it would be another hour to walk out to the main road. It's lovely having her on the ground beneath us, she's been playing ukulele and violin for hours, and it sounds beautiful drifting up through the tree to us. We've also got quite a few games of Uno in, but otherwise it's been feeling very relaxing just to lay around and talk and watch the birds fly by and the trees sway and the colours on the mountains change (sometimes because of the smoke).
Sometimes I lay down and poke my head over the edge of the platform and look at the ground, and I already feel like it's a bit of an abstract thing. Miranda talks about how sometimes it feels like she's grown the understand the platform as the ground, and she's just got this small tree next to her – the small tree in fact being the very top of a massive old growth tree.
It was pretty hot most of the day – we had to put up the mosquito net as a sun shield, but now cloud has come over and it's starting to cool a bit. Apparently there is meant to be snow on Mt Field in 2 days!
8th January 2013 – This morning I woke up to another smoky view down the valley that got my panicking again. We spent a bunch of time processing fire and weather information and bouncing ideas off each other. The wind picked up a bit and the smoke eventually cleared and then the wind picked up some more and brought a whole bunch of rain, which has been more reassuring than anything else we could have asked for.
We got a beautiful rainbow over the valley when the sun broke through briefly, and then straight back to the rain. The wind is intense and I think it could be a difficult night to sleep. We hear the wind roar through the forest canopy toward us and then the tree starts swaying like a boat on rough seas and I nervously check on the integrity of our rain shelter until the gust passes us. The shelter is awesome and takes up about a third of the platform space. There is a rectangular timber roof frame covered in thick clear plastic (so you can still see the stars) and then there are rolls of the same plastic that can be rolled down in panels and zipped together to make quite solid walls. The only thing is, I'm sure it makes the tree sway more when it has walls as it is literally like a sail. But, it gives us a huge amount of protection and keeps us cosy.
It's getting quite cold now, my hand is getting cold and stiff from being outside the sleeping bag. It's meant to snow on the mountains tonight! Brrrrr… oh there's another rainbow. We are just snuggling in our sleeping bags right now - Miranda reading "Green Is The New Red", which I gave her, and me about to get back into "Bury My Heart At Wounded Knee." Cosy, wild weather tree-sit times. Tonight is my last night, and I'm really going to be sad to leave tomorrow.
Postscript – I didn't get to write any more while I was up the tree-sit, but it certainly did snow. We got some sleety stuff falling on us, and Mt Field have a very nice dusting on it. Pretty special stuff!
You can see a whole bunch of photos I took of the trip here.